BEVERAGE COASTERS AND MORE
BOTTLE TOTES—REUSEABLE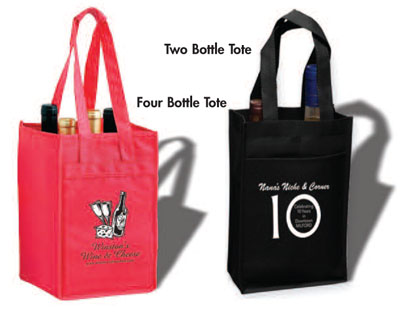 Whether you're selling wine or beer in 22 oz. bottles, our Bottle Totes will help move product. Available in four stock colors: royal blue, red, black, burgundy and tan. Screen printed with your logo/message.

Bags are made from 80 GSM non-woven polypropylene containing 20% post-industrial recycled content and are recyclable.
Four and six bottle bags include a Velcro handle carrier, foam bottom and sewn-in dividers. Two-bottle bag has sewn-in divider and pocket.

Production turnaround: 2-3 weeks.
One Bottle: 5W x 5 x 12H; 3W x 7H imprint area
Two Bottle: 7W x 3 x 11H; 4W x 6H imprint area
Four Bottle: 7W x 7 x 11H; 4W x 5H imprint area
Six Bottle: 10W x 7 x 11H; 6W x 5H imprint area
LOYALTY PRICING
| | |
| --- | --- |
| ONE BOTTLE TOTE | Includes 1-color imprint |
| 100 quantity | $1.76 per unit |
| 300 quantity | $1.58 per unit |
| 500 quantity | $1.49 per unit |
| 1,000 quantity | $1.40 per unit |
| 3,000 quantity | $1.31 per unit |
| TWO BOTTLE TOTE | Includes 1-color imprint |
| 100 quantity | $1.98 per unit |
| 300 quantity | $1.76 per unit |
| 500 quantity | $1.67 per unit |
| 1,000 quantity | $1.58 per unit |
| 3,000 quantity | $1.49 per unit |
| FOUR BOTTLE TOTE | Includes 1-color imprint |
| 100 quantity | $2.25 per unit |
| 300 quantity | $1.98 per unit |
| 500 quantity | $1.85 per unit |
| 1,000 quantity | $1.76 per unit |
| 3,000 quantity | $1.67 per unit |
| SIX BOTTLE TOTE | Includes 1-color imprint |
| 100 quantity | $2.43 per unit |
| 300 quantity | $2.16 per unit |
| 500 quantity | $2.07 per unit |
| 1,000 quantity | $1.98 per unit |
| 3,000 quantity | $1.85 per unit |
| | |
| Plus $50.00 per Color Set-up | $95.00 for Pantone match |
| Additional Colors (up to 4) | $0.45 per |
| | All pricing is in US dollars. Pricing subject to change without notification. |
| Don't see the option or quantity you're looking for? | Please call 1.877.423.2627 or email sales@adcoasters.com |