INNOVATIVE BEVERAGE COASTER ADVERTISING
T-SHIRTSóCUSTOM SCREEN PRINTED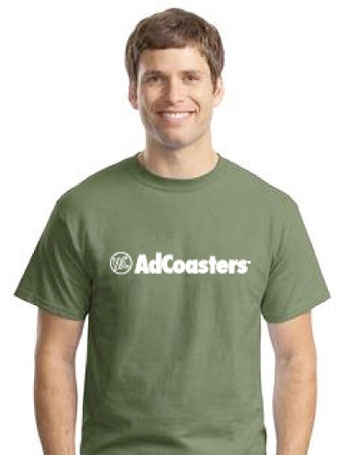 Upcoming event? Employee recognition? Custom printed T-Shirts from AdCoasters do the job. Custom printed T-Shirts are great promos and our exceptional pricing makes them easy on your marketing budget.

We recommend Hanes 100 percent cotton Beefy-Ts but we can typically get any brand or material into production within 24 hours. Please call us toll-free at 1.877.423.2627 or email.

Production turnaround: 5-10 business days.




LOYALTY PRICING
| | |
| --- | --- |
| T-SHIRTS | 1-color imprint, 1-location |
| 12 quantity | $7.15 per unit |
| 37 quantity | $6.25 per unit |
| 73 quantity | $5.35 per unit |
| 145 quantity | $4.45 per unit |
| 289 quantity | $4.05 per unit |
| Plus $35 screen set-up | |
| T-SHIRTS | 2-color imprint, 1-location |
| 12 quantity | $8.05 per unit |
| 37 quantity | $7.15 per unit |
| 73 quantity | $6.25 per unit |
| 145 quantity | $5.35 per unit |
| 289 quantity | $4.45 per unit |
| Plus $70 screen set-up | |
| T-SHIRTS | 1-color imprint, 2-locations |
| 12 quantity | $9.85 per unit |
| 37 quantity | $8.95 per unit |
| 73 quantity | $8.05 per unit |
| 145 quantity | $7.15 per unit |
| 289 quantity | $6.25 per unit |
| Plus $70 screen set-up | |
| | All pricing is in US dollars. Pricing subject to change without notification. |
| Don't see the option or quantity you're looking for? | Please call 1.877.423.2627 or email sales@adcoasters.com |