BEVERAGE COASTERS AND MORE
TIN TACKERS—EMBOSSED METAL SIGNS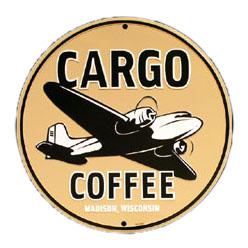 Tin Tackers are a great way to brand your brewery. Our Tin Tackers are manufactured from recycled aluminum and made in the USA. Choose from 12-inch diameter circle or 12" x 18" rectangle—custom sizes/shapes are also available (please call for pricing).

Pricing includes choice of one standard background color (yellow, cream, white, black, or natural aluminum) and embossing. Individually shrinkwrapped for protection. Listed is pricing for our most popular options. Please call for spot color or half-tone options.

Production turnaround: 4-6 weeks.
LOYALTY PRICING
| | |
| --- | --- |
| 12-INCH CIRCLE | Includes 1-color imprint |
| 100 quantity | $7.88 per unit |
| 250 quantity | $5.04 per unit |
| 500 quantity | $4.14 per unit |
| 1,000 quantity | $3.69 per unit |
| 2,500 quantity | $3.51 per unit |
| 5,000 quantity | $3.33 per unit |
| 12-INCH CIRCLE | Includes 4-color process imprint |
| 100 quantity | $10.17 per unit |
| 250 quantity | $6.93 per unit |
| 500 quantity | $5.80 per unit |
| 1,000 quantity | $5.22 per unit |
| 2,500 quantity | $4.73 per unit |
| 5,000 quantity | $4.50 per unit |
| 12" x 18" RECTANGLE | Includes 1-color imprint |
| 100 quantity | $9.23 per unit |
| 250 quantity | $6.08 per unit |
| 500 quantity | $5.13 per unit |
| 1,000 quantity | $4.55 per unit |
| 2,500 quantity | $4.23 per unit |
| 5,000 quantity | $4.05 per unit |
| 12" x 18" RECTANGLE | Includes 4-color process imprint |
| 100 quantity | $12.60 per unit |
| 250 quantity | $8.10 per unit |
| 500 quantity | $6.84 per unit |
| 1,000 quantity | $6.08 per unit |
| 2,500 quantity | $5.63 per unit |
| 5,000 quantity | $5.31 per unit |
| | All pricing is in US dollars. Pricing subject to change without notification. |
| Don't see the option or quantity you're looking for? | Please call 1.877.423.2627 or email sales@adcoasters.com |