BEVERAGE COASTERS AND MORE
PUGET SOUND STARTS HERE COASTERS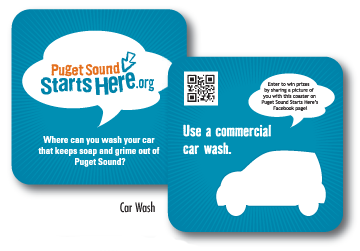 Designed by the Puget Sound Partnership to promote community action to improve water quality in Puget Sound, local lakes, rivers and streams. Each coaster addresses a different action that can help reduce human impact on local waterways.

The coasters are printed using paper board stock containing up to 30 percent post-consumer waste, agri-based inks, are reusable, and are biodegradable.

Quantities limited—please call or email.
Made in the USA


PRICING
| | |
| --- | --- |
| PSSH BEVERAGE COASTERS | |
| 1 carton (2,500 qty) | $405.00 |
| 2 cartons (5,000 qty) | $715.00 |
| 4 cartons (10,000 qty) | $1,225.00 |
| 8 cartons (20,000 qty) | $2,250.00 |
| | All pricing is in US dollars. Pricing subject to change without notification. |
| Don't see the option or quantity you're looking for? | Please call 1.877.423.2627 or email sales@adcoasters.com |