INNOVATIVE BEVERAGE COASTER ADVERTISING
BEVERAGE WRENCH™—ORIGINAL, ROUND & DELUXE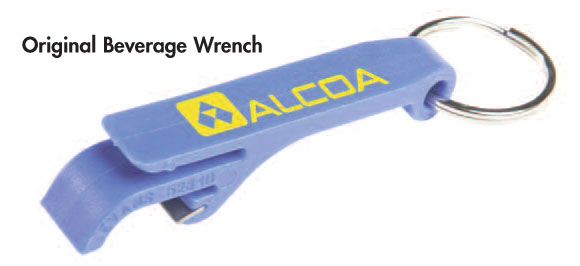 Looking for an economical and effective promotional product made for the beverage industry? Look no further than the Beverage Wrench. Safely open bottles and cans while serving as a key chain.

We offer 3 different shapes to fit most logos and messages: Original, Round and Deluxe.
Both the Original and Round are quality manufactured with a stainless steel insert; the Deluxe is fabricated out of metal alloy with translucent plastic accent. All 3 are pad printed.

Production turnaround: 1-2 weeks.
LOYALTY PRICING
| | |
| --- | --- |
| ORIGINAL | Includes 1-color imprint |
| 250 quantity | $0.62 per unit |
| 500 quantity | $0.56 per unit |
| 1,000 quantity | $0.51 per unit |
| 2,500 quantity | $0.49 per unit |
| 5,000 quantity | $0.48 per unit |
| ROUND | Includes 1-color imprint |
| 250 quantity | $0.66 per unit |
| 500 quantity | $0.59 per unit |
| 1,000 quantity | $0.56 per unit |
| 2,500 quantity | $0.53 per unit |
| 5,000 quantity | $0.52 per unit |
| DELUXE | Includes 1-color imprint |
| 150 quantity | $2.03 per unit |
| 250 quantity | $1.89 per unit |
| 500 quantity | $1.82 per unit |
| 1,000 quantity | $1.76 per unit |
| 2,500 quantity | $1.72 per unit |
| Optional Wrist Coil | |
| 150 quantity | $0.51 per unit |
| 250 quantity | $0.48 per unit |
| 500 quantity | $0.45 per unit |
| 1,000 quantity | $0.42 per unit |
| 2,500 quantity | $0.41 per unit |
| 5,000 quantity | $0.39 per unit |
| | |
| Plus $50.00 per Color Set-up | |
| Additional Colors | $0.15 per |
| | All pricing is in US dollars. Pricing subject to change without notification. |
| Don't see the option or quantity you're looking for? | Please call 1.877.423.2627 or email sales@adcoasters.com |